Please take a moment to browse our temporary corporate housing website and discover more about our luxury corporate and insurance rental housing units avaible in Orlando, Florida. We are dedicated in striving to create a pleasurable, comfortble, private, safe and convienient temporary home for you, your employees, your corporate guests and others. Our temporary houses and furnished apartments are not just another apartment, they are stylish residences for corporate and other temporary or short term residential need.

This short term furnished rental property and its small innocent house have a historic citrus industry past.

To learn more about the mystique of this historic citrus industry property and its historical citrus past you may view The The Truth Is Stranger Than Florida episode IN THE GROVES that was filmed historically accurate in this historically relevant property in the conservatory. This episode can be found online and is on the DVR that is in the house.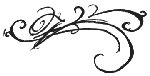 about T.H.O.R.
Historic corporate housing in Orlando Florida

This historic building and its adjacent sister, The Conservatory, are a pair of Florida Citrus history treastures. The House On Rails Or T.H.O.R. is a corporate temporary housing home located in the College Park Neighborhood of Orlando Florida and was built in 1950. The main house on the property, known as The Conservatory, was built in 1941 and is the currently used as temporary housing and corporate extended stay housing.

When The House On Rails was built in 1950 it was at the beginning of the popular architectual style known as Mid Century Cottage style. The building is a simple block building with metal roof yet the interior is now furnished back to the original MCM style furnishes. The architecture of building is of a tropical cottage yet the interior is furnished and styled historically appropriate to when Mr. Morse, founter of Minute Maid Corpration and inventor of frozen juice concentrates owned it.

This charming concrete block house has escaped the bulldozers of contemporary developers so prevalent in the last 20 years, making these buildings rare exceptions in the ever-growing city of Orlando, Florida. 3 More surprising is the fact that these undiscovered architectual gems are located a few minutes away from Downtown Orlando in the College Park neighborhood. The second owner of this property was Richard Morse, the inventory of frozen concentrated juice mixes and founder of Minute Maid Corporation and used as corporate housing for Minute Maid in the 1960's. The property was purchased by Mr. Morse due to its proximity to the new Minute Maid Headquarters. The location of the new Headquarters was at the intersection of the Orange Blossom Trail (Route )441 and Colonial Drive (Route 50), where the WAWA gas station currently sits and is less than 1/4 mile from The House On Rails corporate housing cottage.

The House On Rails (T.H.O.R.) was used by Mr. and Mrs. Morse to host their guests and guests of Minute Maid corporation. The main house that is located on the property and known as The Conservatory was used by Mr. and Mrs. Morse as their Orlando home until 1969 when he sold the property. As Mr. Morse was head of National Research Corporaton, the once parent company of Minute Maid, his time was divided. The Morse's maintained their main home in Massachusetts as he was head of research and development for the U.S. Army and later became a lecturer at Massachusetts Institute Of Technology. It only seems appropriate that The House On Rails and The Conservatory host corporate executives and other corporate guests during their establishment residency period or the guest residency as the house once hosted such guests for Minute Maid Corporation.

The house was sold to Mr. and Mrs. George Cheek, who held the property from 1969 to 2015 when the current owners purchased the property and saved it from developer destruction and and opened it for corporate short term housing and Orlando Florida insurance replacement housing and temporary housing in Orlando Florida. The property is well maintained wiht gardens that host butterflies, birds and other wildlife as well as appropriately furnished interiors. For larger parties corporatins may rent both The conservatory and The House On Rails to temporarily house several guests on the same property.

Havig two separate buildings on the same property is extremely valuable as corporate housing for groups where certain directors or officers of a corporation cannot stay in the same building due to their corporate charger or governing laws. This sometimes happens when CEO's and CFO's care not allowed to stay in the same building or fly on the same plane due to these internal regulations. The need to be located close to each other for business purposes yet not allowed to stay in the same corporate housing apartment or building is solved when you rent both corporate housing buildings located on this Orlando Florida property.

The House On Rails has hosted business executives, celebrities, pilots, traveling doctors and families for their short term or temporary accomodations housing needs.

The propety is fully insured as a temporary housing rental and a furnished corporate housing apartment. This is important to know as the majority of temporary housing units that you may find on sites such as Airbnb, VRBO, and others are typically not professionally insured as this type of rental. This becomes a huge deal if there is an event requiring insurance coverage a standard home owners or renters policy will deny coverage and cancel a policy that is not properly insured. Our rental properties are fully insured with Proper Insurance corporate housing and temporary housing policies underwritten by Lloyds of London.

As the House On Rails is a historic rental property is is likely that lead based paint may have been used on the interior and exterior at one time in its history. For most of us this is not a huge concern as our contacts with paint do not typically include ingesting it. Lead based paints does sometimes become an issue when toddlers and children come into contact with items painted with lead based paint and children's habit of sucking on things, particularly when teething. As lead based paint is sweet to the taste the sucking may become chewing and then the paint may crack off and the toddler or child ingest it. It does not take much paint to make a toddler or child sick so it is important that children be kept away from lead based paints. The U.S. EPA makes these brochures available for corporate rental guests and temporary housing guests so that they can be aware of the facts of lead based paints. Please view this EPA brochure regarding lead based paint, click here for the English versions, Spanish versions, Vietnamese versions, Russian versions, Arabic versions, and click here for the Somali version.


The location, location, location of our downtown Orlando Fl temporary housing units!
Several beautiful clean green parks, which are the City of Orlando trademarks, are within short walking distances. Centrally located, yet in a quiet historic neighborhood buffered by large Live Oaks, one quickly forgets how close all the amenities of Downtown are. The streets of the neighborhood are the historic brick from their beginning, with the neighborhood taxing itself to remove the asphalt and reveal the historic beauty in the late 1990's.

From October to May a nest of Bald Eagles may be viewed from the rear of the property and actually from the sofa in the living room. This pair of Eagles has been returning every October since 2003. The tall pine tree that hosts these stoic birds sits on the edge of The Country Club Of Orlando. The Country Club of Orlandois the oldest country club in Florida, established in 1911.


How close is our downtown Orlando Fl corporate housing units to?
The House On Rails is a historic corporate extended stay apartment house rental located in Orlando Florida! T.H.O.R. is located 1 mile from Downtown Orange Avenue,1.9 miles to Amway Arena, 1.2 Miles to Camping World Stadium, 1.9 Miles to Orlando City Stadium Soccer Stadium, 8.6 miles to Lockheed Martin, 1.3 miles to The Florida Hospital, 2.6 Miles to Orlando Regional Medical Center, 12 miles to Universal Studios, 21 Miles to Disney World Corporate and 18 Miles to sea world. Additionall this corporate extended stay rental property is 1 mile from the Orlando Creative City campuses, 18 Miles to U.C.F., 11 miles to Full Sail University and 8 miles to Valencia College.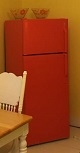 Our Orlando Florida corporate housing and extended stay housing is professioally designed in the mid century modern style. This luxury unit contains a vibrant Orange, Yellow and Green citrus fresh kitchen.


The luxury of modernization with the style of mid century Florida, Original mid century bathroom tile with modernized water fixtures, pressure and tankless hot water heater.


The outdoor areas are appropriately lit at our Orlando FL insurance replacement extended stay housing units. The door way lanterns are flame effect LED bulbs that promote relaxation and peacefulness.








1 UNIT
1 bedroom | 1 bath | kitchen
living room | bonus bedroom 'full'
private parking | laundry facilities access



CURRENTLY ACCEPTING RESERVATIONS

click image for larger view of corporate housing rental



Front entry court with seating
styling, flame effect lighting and
Hollywood Regency statuary
yet in keeping with Mid Century sensiblities.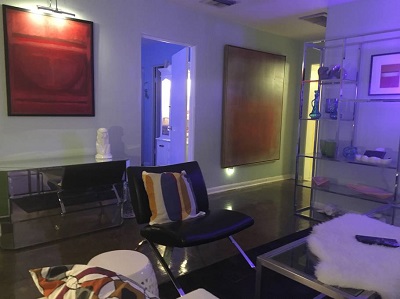 Interior living room in Mid Mod fashion
with leather sofas and chairs, the living room connects to
the bedroom throught he blue door and the kitchen and
front entry down the hallway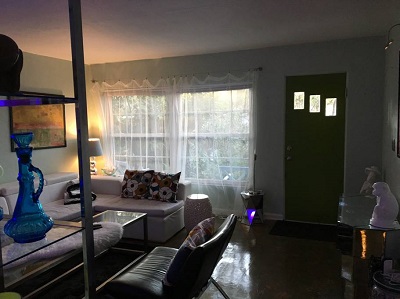 Interior living room in Mid Mod fashion
with green entry door, the green door overlooks a statuary garden
and the train which runs along the historic Orange Blomsom Trail
There is an eagles nest out back also, just look to the tall pine trees.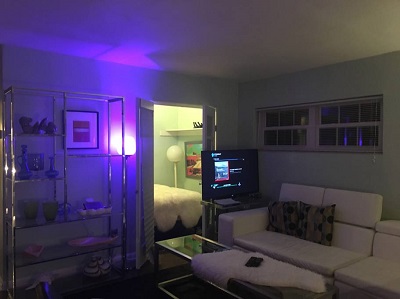 This orlando corporate housing living room has a small bonus
room with full size bed located behind the television.
Appropriately furnished with high def 4k television, the
Nighthawk wifi provides the fastest wifi available in Orlando.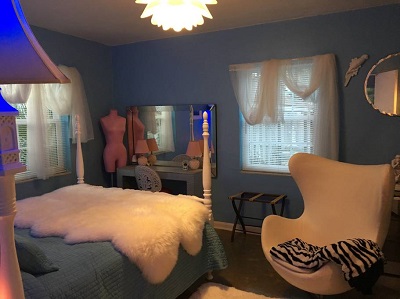 The corporate housing bedroom hosts a queen bed, mid century
egg chair, vanity, hollywood regency dresser and lots of
luxurious syling. Various styles, colors and intensity of light
ionstantly change the mood in this room.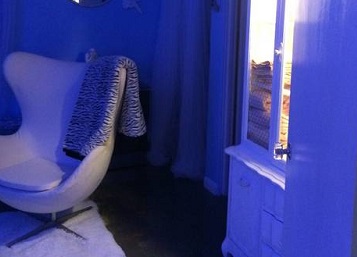 With the lighting levels set to blue the room instantly
has a mood change. The egg chair reclines
back as well as swiveling for various reading
and relaxation comforts in this furnished corporate housing unit.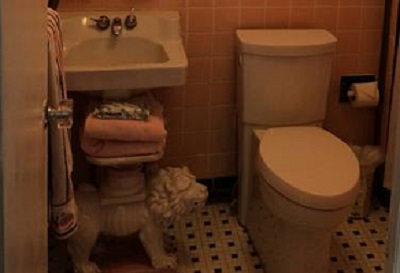 The restroom is fresh and funky with all of the bells and whistles.
The original Hollywood Regency pink and black tile is still in perfect
conditions. The sink and bath tub are the original Art Deco fixtures yet the
water closet has been updated to touch free flush and low maintenance.



The kitchen in this corporate housign in Orlando Florida unit
contains a stove and oven, refrigerator, microwave,
small appliances and comes well stocked with dishes, cookware,
soaps and paper products.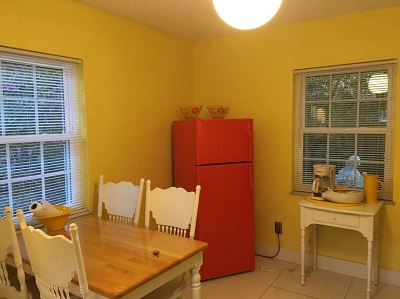 This orlanod florida temporary housing one bedroom house
has a fruity fresh kitchen that overlooks a fountain garden
with tropical plants and a giant oak tree that shades the house
The garden hosts various seating and lounging opportunities.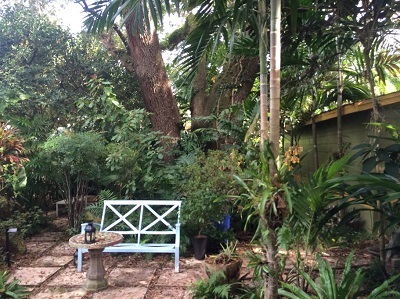 The giant Live Oak tree is named Hercules and is ranked
ninth largest in Florida. Hercules is the center piece of
this orlando corporate housing garden. Hercules is 23 feet diameter
at the base and is estimated to be at least 100 years old.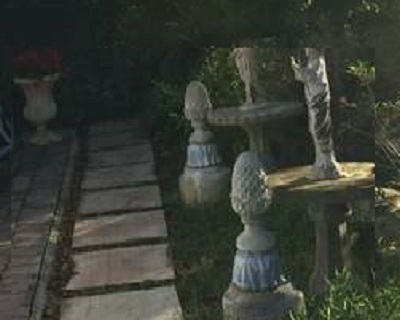 The rear garden hosts the butterfly and statuary garden.
There are hundreds of butterflies that visit this small garden
area on daily basis. You will also see many birds that take
baths and drink in the bird baths in this orlando florida insurance housing
garden. The garden has many various fragrant plants as well.
Be sure to stop and smell the Panama Rose.

Orlando Corporate Housing Rentals Are...
Orlando Luxury Apartments
Orlando Luxury Apartment
Orlando Rentals
Orlando Historic Apartments
Orlando Art Deco Apartments
Orlando Loft Apartments
Orlando Apartments
Our Orlando Luxury Apartments Offer
ORLANDO FL TEMPORARY RENTALS
HISTORIC APARTMENTS IN ORLANDO
ORLANDO ART DECO APARTMENTS
FURNISHED EXECUTIVE APARTMENTS
LOFT APARTMENTS IN ORLANDO
ORLANDO DOWNTOWN APARTMENTS
ORLANDO RENTALS
TEMPORARY HOUSING FURNISHED IN ORLANDO FL
CORPORATE HOUSING ORANGE COUNTY FLORIDA
SHORT TERM HOUSING WINTER PARK FLORIDA
CORPORATE APARTMENTS NEAR LAKE MARY FLORIDA
EXTENDED STAY HOUSING IN ORLANDO FLORIDA
LONG STAY HOTEL
INSURANCE HOUSING ORLANDO
CATASTROPHY TEMPORARY HOUSE
TEMPORARY RENTALS
TEMPORARY ACCOMODATIONS CENTRAL FLORIDA
ORLANDO DOWNTOWN CORPORATE HOUSING APARTMENTS
ORLANDO TEMPORARY FURNISHED RENTALS